According to documents released at Apple's online shareholder meeting on Feb. 23, CEO Tim Cook received a"priceless" year-end bonus: $125 million worth of stock and a 28 percent increase in his overall compensation to$14.77 million in 2020.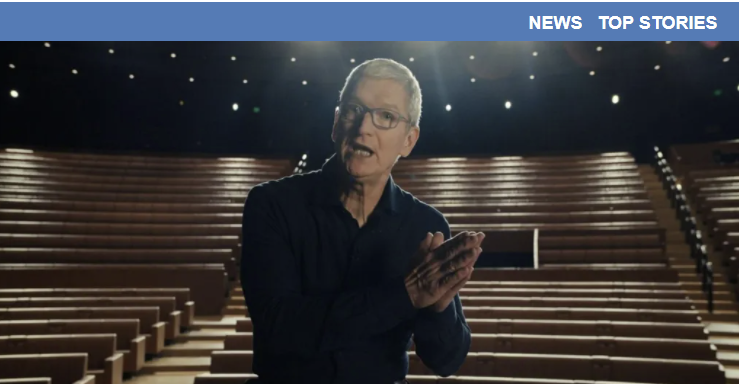 CEO Tim Cook
Despite the global epidemic in 2020, Apple still had a bumper year. At one point in the fourth quarter, fueled by the iPhone 12 series, Apple surpassed Samsung as the world's The world's highest-selling cell phone brand, Apple Watch and headphone sales are also growing by leaps and bounds. Last quarter, Apple's single-quarter revenue exceeded market expectations, topping $100 billion for the first time. Last quarter, Apple's revenue exceeded market expectations, surpassing $100 billion for the first time, up 21% year-over-year, and net profit rose 29% year-over-year to $22.24 billion. One user explained it more graphically, "If you're unimpressed by this figure is too large and uninspiring, imagine this scene: in Apple's bank account, 18,000 yuan is added every second." (From: Boundary Face News)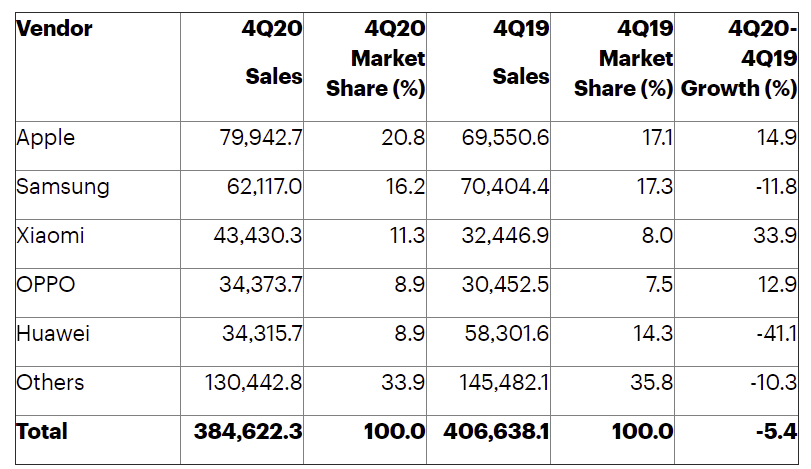 Top5 Smartphone 2020 4Q Market Share
(Source: Gartner February 2021)
In addition to Apple's success in platform eco-operation, marketing, supply chain, quality control, etc., its design definitely contributes a large part: industrial design and software application design (these two pieces are designed at the same time but kept secret from each other).

Cell phone prototype (static cell phone desktop posted)
Cook said his company "is made up of people who want to spend their lives creating products that enrich the lives of others.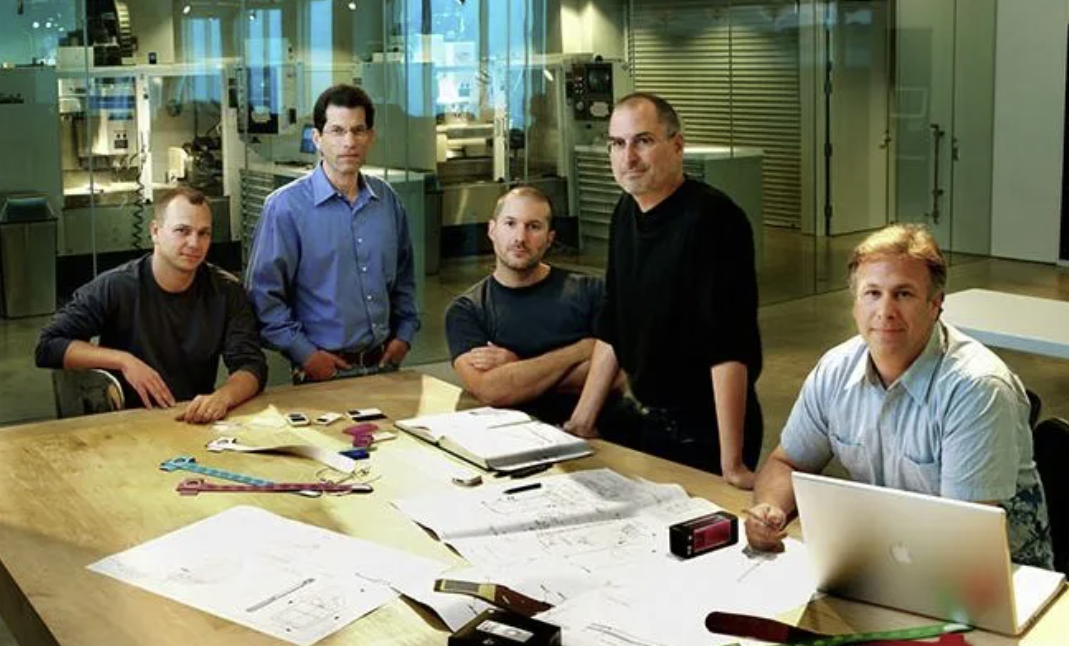 Steve Jobs and executives in the industrial design room
(Source: Time Magazine)
Apple designer Christopher Stringer defines the role of an Apple industrial designer as "imagining products that didn't exist and bringing them to life through the right process. and bringing them to life through the right processes. This includes defining the experience of our customers when they touch and feel our products. This process is enriched by the overall presentation and materials, textures, and colors. This process enriches the product through the overall presentation and materials, textures, and colors. Working with the engineering team to bring products to life and to market with Apple-quality craftsmanship. "

The Evolution of Apple iMac from 1999 - 2018
(Source: Red Dot website)
In 1997, after Steve Jobs returned to Apple, he promoted Jonathan Iver, a young British industrial designer who was not well known in Apple's design department at the time, and put him in charge of Apple's design department. He put Jonathan Iver in charge of Apple's design department and put him in charge of the new generation of Apple computers, proposing new technical breakthrough concepts and requiring product design out of the inert, inertial track. During the period to 2019, Jonathan successfully led the design team that designed the iMac, iPod, iPhone and iPad. Notable among them are:
① Since the iMac was launched, no one can say anymore that computers are ugly beige boxes with noisy fans and piles of cables. The computer is made of bright, colorful made of translucent plastic, which is visually stunning. This design approach soon gained worldwide acceptance and formed a design trend. A variety of subsequent products were available in multiple kinds of bright colors to choose from, and even the earthy gold color of cell phones in China would be considered very fashionable.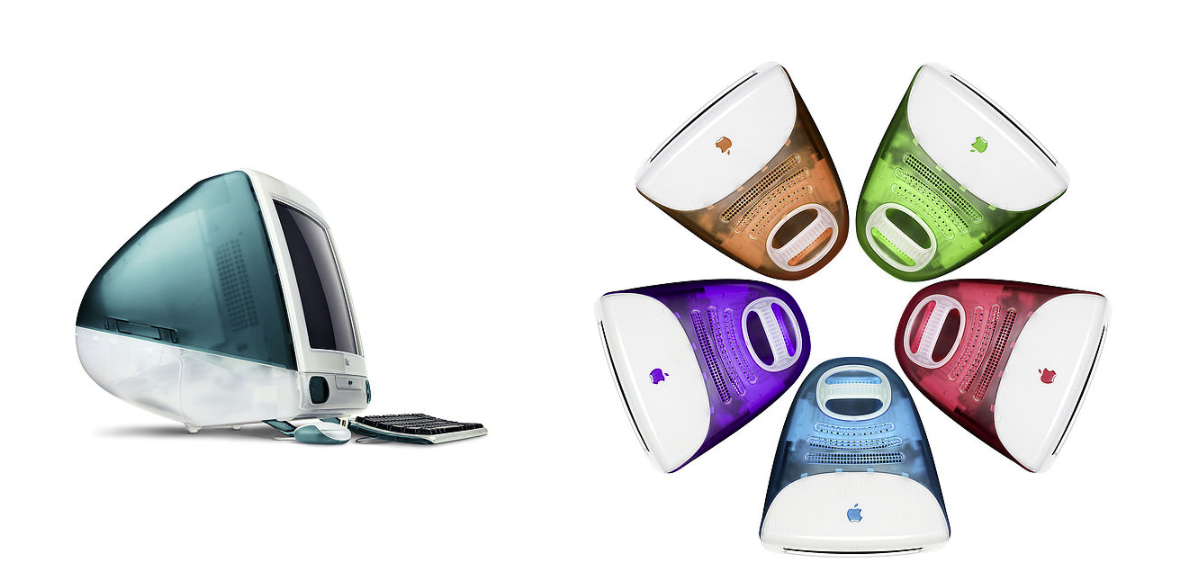 iMac computer (source: Red Dot website)
② Good design is as little design as possible", says Dieter Ramsay. With the insistence of Steve Jobs, the minimalist style has achieved the ultimate, eliminating superfluous curves, using one button, controlling with one hand, etc. Together with the aesthetic design of software and good UX (user experience) design, it has created a very successful product. In China, many students or young people who have just joined the workforce are also proud to own an Apple product, despite its price.
③ The use of new technologies and materials, such as the first phones with capacitive screens, the use of machined aluminum housings, the use of Gorilla Glass screens, etc.; even the creation of new Bluetooth protocols, just to remove the existing Bluetooth protocols supported by the headphones left and right connected to the harness, etc. Apple's these new things out, led to a large number of followers. One step faster, one step faster. (Of course, Apple has also persisted for a long time before learning from Samsung's large screen).
When Tim Cook took over, he kept Jonathan Ive on as head of Apple's industrial design division and also put him in charge of the company's entire Human Interface business. In Tim Cook's opinion, Jonathan has an amazing aesthetic ability and the best design skills, and over the past decade or so he has made a huge contribution to the appearance of Apple products. He has made a huge contribution to the appearance of Apple products over the past decade or so. It is important to understand that a great deal of the design of Apple products is tied to their software, and Jonathan's leadership in hardware design If he were to take charge of Apple's software design, he would be able to further open up the gap between Apple and its competitors with his outstanding ability. distance between Apple and its competitors. The market sales show that this is the right choice.
From a product perspective, iPod to iPhone, with a cell phone card is a cell phone; then to iPad, which makes the screen of a cell phone a little bigger; then to driverless car, because a car The car is a big phone. (I didn't believe it when someone said this a few years ago, but now I almost believe it.)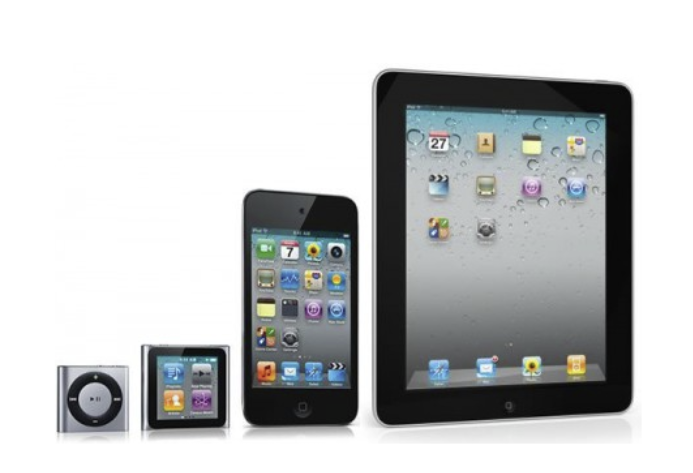 Ipod、iPhone、iPad
The World Design Organization's (WDO) latest definition: Industrial design is a strategic problem-solving process that drives innovation through innovative products, systems, services and experiences that build business success and lead to a better quality of life. innovation, build business success, and lead to a better quality of life. Industrial design bridges the gap between "what is" and "what could be". It is an interdisciplinary profession profession that uses creativity to solve problems and co-create solutions with the goal of making a product, system, service, experience or business better. At its core, industrial Design offers a more optimistic way of looking at the future, redefining problems as opportunities. It connects innovation, technology, research, business and customers in the economic economic, social and environmental spheres to provide new value and competitive advantage. This way the entire product creation, innovation systemic design is included. Apple's Industrial Design Apple's industrial design has been a trendsetter since Steve Jobs, unlike many of its followers who have to do market research, competitive research, etc., when developing products (perhaps not necessarily now). This is still a bit different from what the big industrial design advocates, maybe this is "I am me, different fireworks" it!